Back to News
Motocross
Racing - Motocross
Suzuki and HEP Motorsports Extend Partnership With Multi-Year Agreement
Solid 2023 Results Lead to Continued Racing and Marketing Success
BREA, CA, September 18, 2023 — Suzuki Motor USA, LLC is pleased to announce its continuing partnership with HEP Motorsports through the 2025 season as Suzuki's premier SMX race team. With HEP Motorsports' solid success in 2023, the partnership continues with both racing and joint marketing initiatives including Suzuki's RM Army Boot Camp events among other things.
In 2023, HEP Motorsports' Progressive Insurance ECSTAR Suzuki squad featured elite racer Ken Roczen on the Suzuki RM-Z450. With Roczen, HEP carded a solid and consistent season, winning the Indy Supercross in thrilling style and earning several podium results and third in the Championship. HEP Motorsports also earned consistent results in the outdoor motocross season with several top-ten finishes.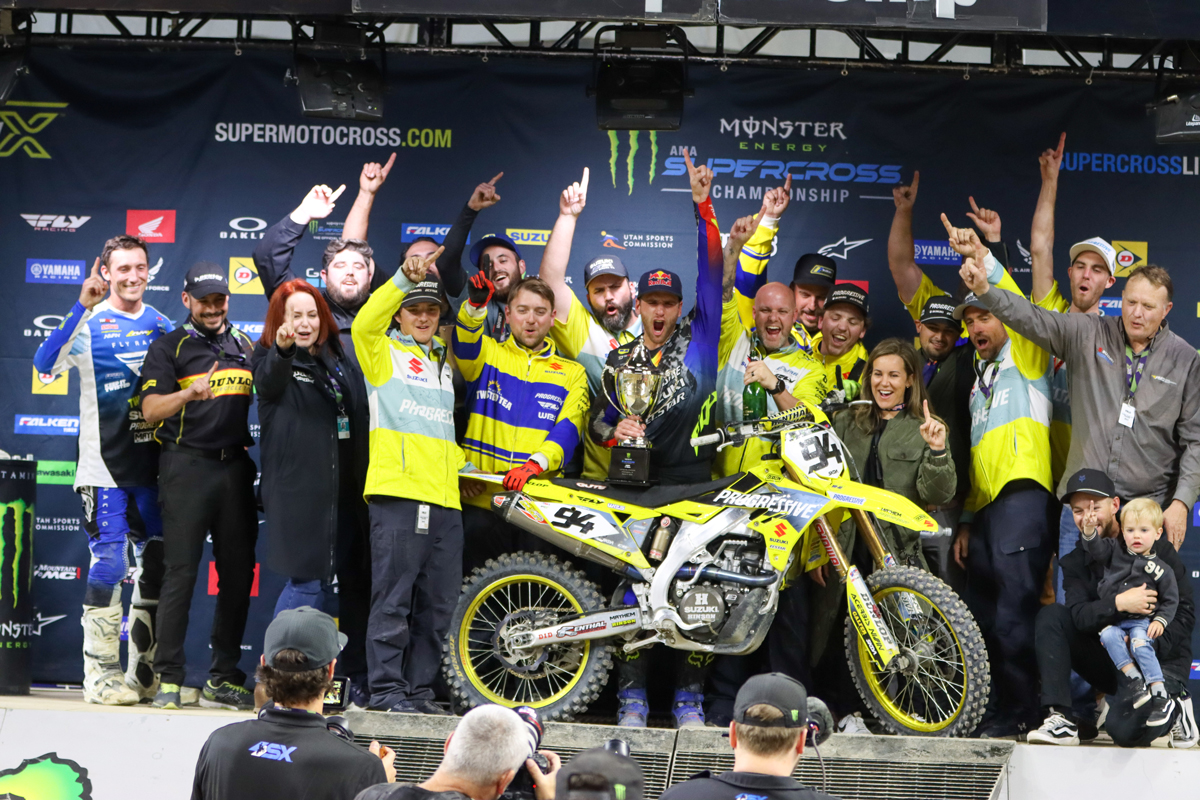 Suzuki and HEP Motorsports celebrate their first win together at the Indy Supercross.
With the 2023 post-season progressing to crown the inaugural SMX World Champions, HEP Motorsports and Roczen achieved second overall in rounds one and two of the SMX playoff format. With this strong showing, HEP Motorsports' lead rider is now ranked third overall for the 2023 SMX World Championship going into the final round at the L.A. Coliseum and a shot at the SuperMotocross World Championship.

The HEP Motorsports 2023 squad also fields the Twisted Tea Suzuki Presented by Progressive Insurance effort with veteran riders Kyle Chisholm and Fredrik Noren. Chisholm is currently ranked 18th, and Noren 14th in the SMX post-season rankings. The HEP Motorsports 2024 rider lineups will be announced later in 2023.
"We are excited to challenge for the 2024 SMX World Championship with Suzuki. Our program and partnership successes with Suzuki continue to evolve for 2024 and beyond. With this partnership we are in the best position to continue to have successful results," said HEP Motorsport's team principal and Pipes Motorsports Group executive, Dustin Pipes. "It is an inspiring time to be a Suzuki Racing fan as we continue to discover new advances in the team's mission to excel in the SuperMotocross format and we are eager to demonstrate our team's continued strengths to the RM Army."
In 2023 saw HEP Motorsports and Suzuki expand their partnership by jointly hosting multiple RM Army Boot Camp events throughout the United States. These Suzuki ride day events were held at premier racetracks for hundreds of Suzuki RM and RM-Z riders to enjoy. Each event allows the RM Army attendees to interact with, learn from, and hang with HEP Motorsports riders and team technicians at these fun, exclusive, yet friendly events. Based on the Boot Camp events' 2023 successes, 2024 Suzuki RM Army Boot Camp event planning is underway, and the 2024 calendar will be announced soon.
"Suzuki is immensely proud of the 2023 race season and the partnership with HEP Motorsports. The team has grown into a podium and race-winning program, and we are excited to continue building the partnership with a multi-year extension," said Chris Wheeler Motorsports Manager at Suzuki Motor USA, LLC. "Having a dedicated and fun team for fans to rally behind while also providing value for Suzuki customers with innovative projects like the RM Army Boot Camps, makes it very rewarding and motivating to continue pushing forward."
"Having the opportunity to come on as Team Manager for the HEP Suzuki team and go racing in the premier class this season was very exciting for me," said Larry Brooks, Team Manager for HEP Motorsports. "Getting to the top of the podium with HEP and Suzuki was such a cool feeling and it's great knowing we are continuing for 2024 and beyond. Testing and development is going well on Suzuki's rock-solid RM-Z450 and I'm looking forward to continuing going into battle with my team."
Suzuki's RM-Z450 and RM-Z250 are poised for more SMX competition excitement in 2024 and beyond, as the Suzuki and HEP Motorsports partnership continues to pay dividends and results. Suzuki is excited to continue its successful racing heritage as it competes in the 2024 SMX World Championship and looks forward to seeing the entire RM Army continuing enthusiasm and loyalty.
The 2024 SMX League season debuts in January 2024 at Angel Stadium for Anaheim 1.