Back to News
Scott and Escalante Impress for Vision Wheel M4 ECSTAR Suzuki at Laguna Seca
Suzuki GSX-R750 Adds to Supersport Podium Count

BREA, Calif., July 9, 2022 — Suzuki Motor USA and Team Hammer continued their front-running ways at WeatherTech Raceway Laguna Seca in Monterey, California, adding another pole position and podium finish to their impressive tally during the 2022 MotoAmerica AMA/FIM North American Road Racing season.

Tyler Scott has shown himself to be a week-in, week-out threat for victory in MotoAmerica Supersport competition aboard the Vision Wheel M4 ECSTAR Suzuki GSX-R750, and the 16-year-old rookie only furthered that notion on Saturday.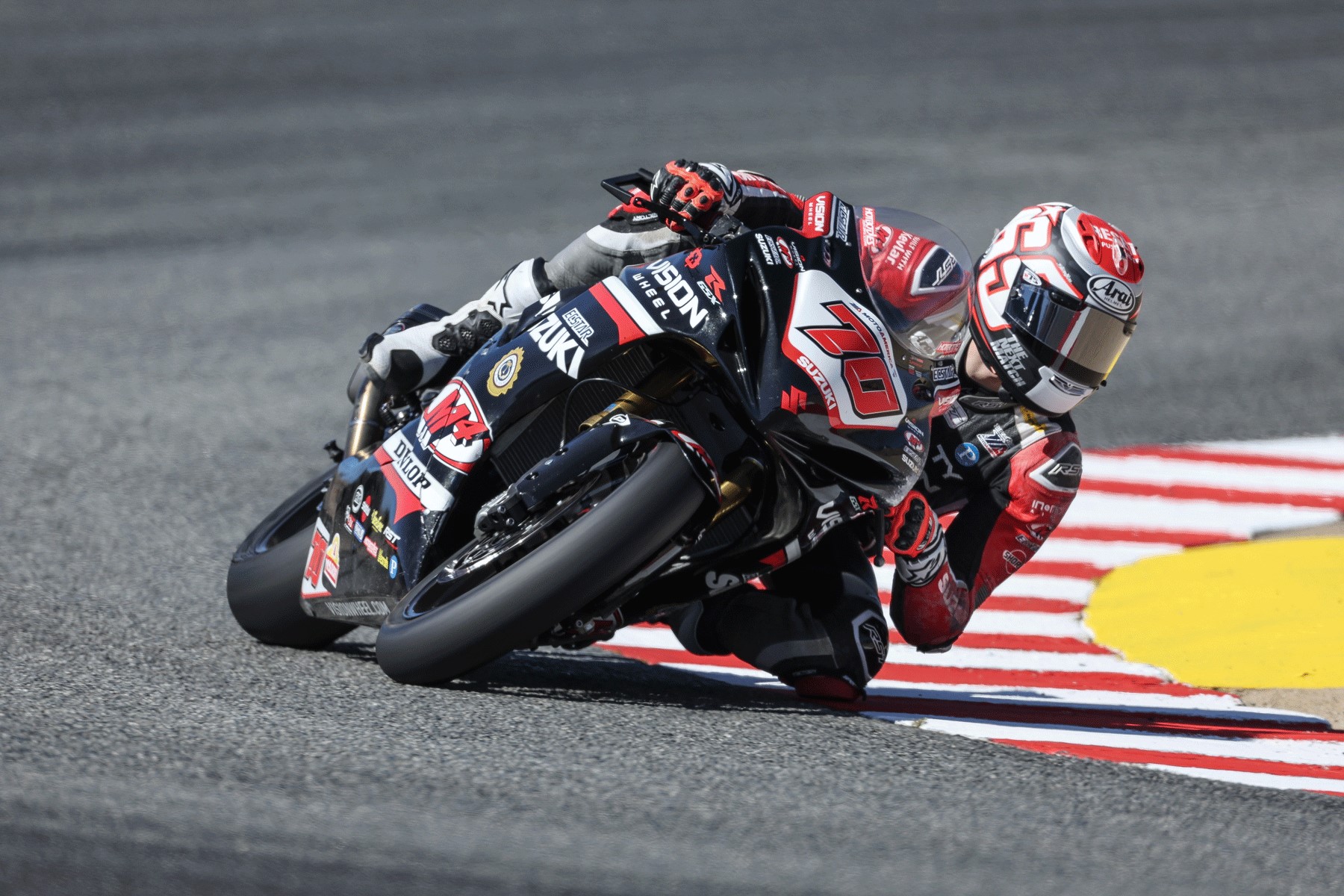 Pole position and second place for Tyler Scott (70) to start the weekend right at the iconic Laguna Seca.

Scott opened the race from pole after setting the pace in qualifying and then made full use of that remarkable speed in running down the early leader after getting away in third. He made methodical progress to close the gap completely, even leading briefly on Lap 11 of 19.

Scott's bid to add a second win to his rookie campaign was ultimately undone due to an unfortunate run through lappers, but he'll gladly take a runner-up result in his first-ever Supersport race at the legendary raceway with an eye on further improvement tomorrow.

"The Vision Wheel M4 ECSTAR Suzuki team put an amazing bike underneath me for this race today," said Scott. "I was just trying to keep a fast pace and keep the pressure on. I knew it was going to be a hard race, but I was ready to fight. We just had a few challenges near the end, but it was an amazing race. We'll make a few small changes for tomorrow and come back stronger."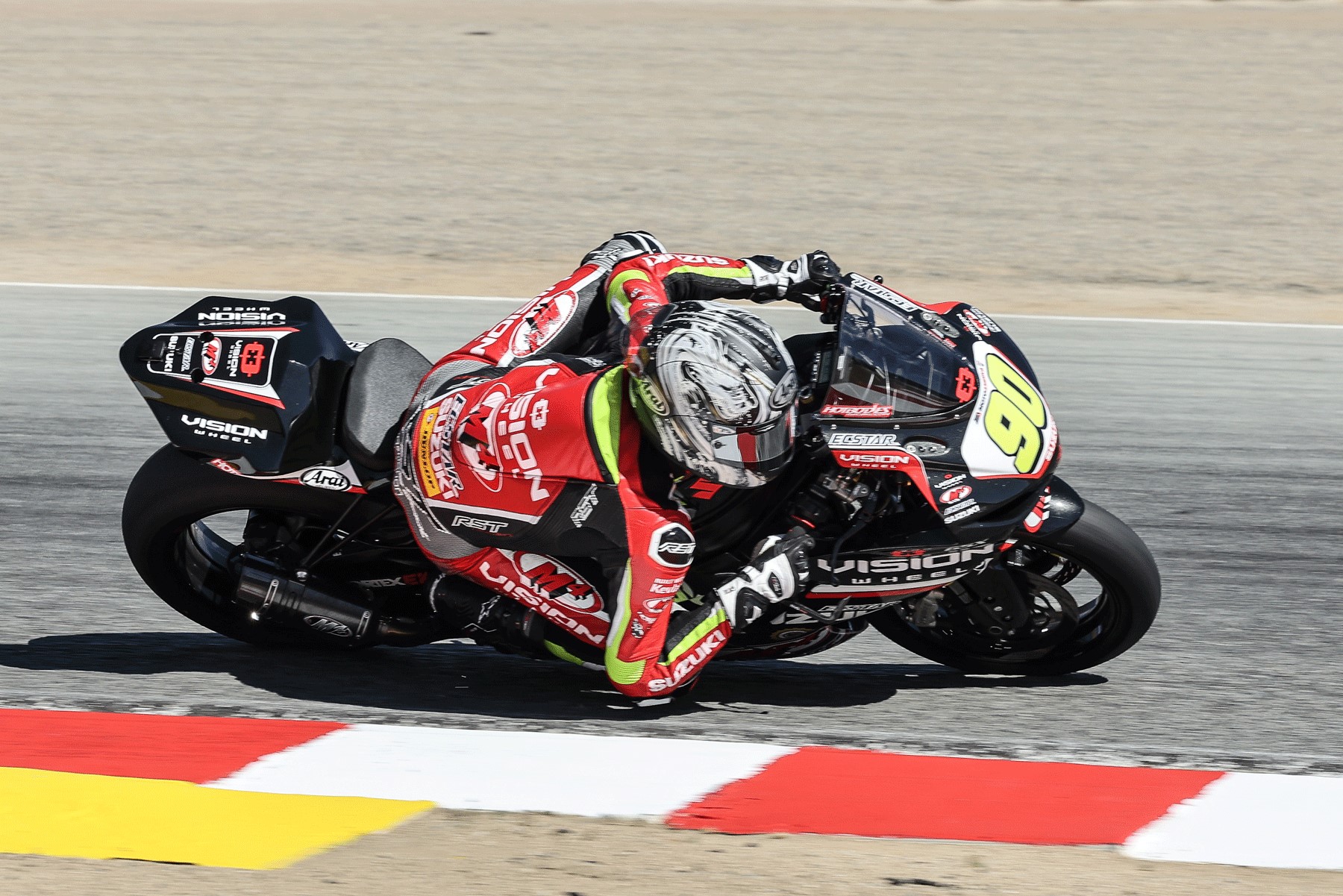 With a hard crash in qualifying, Liam Grant (90) could not start the Supersport race.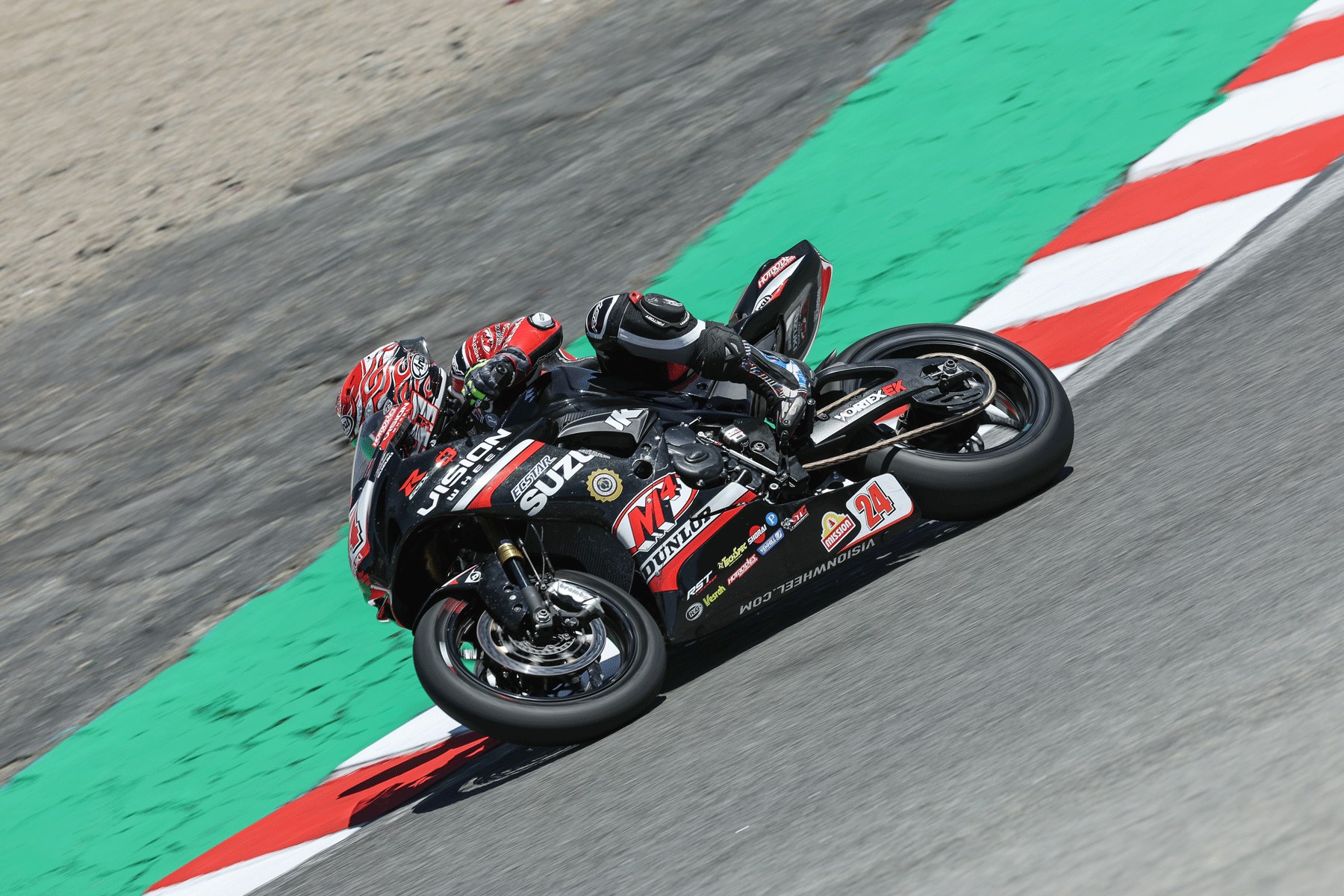 Cory Ventura (24) aboard his new GSX-R750 made his way into the top ten in Supersport Race 1 with an eighth-place finish.

Team regular Liam Grant joined the mending Sam Lochoff on the shelf after suffering a concussion in a qualifying crash. Despite the absences of Grant and Lochoff, Scott was still joined in the top ten by Vision Wheel M4 ECSTAR Suzuki substitute rider Cory Ventura, who made his race debut aboard the next-generation GSX-R750. Ventura finished a close eighth after qualifying fifth and running as high as sixth and helped Suzuki lock down a full half of the class's top ten finishing positions on the day.

Meanwhile, Vision Wheel M4 ECSTAR Suzuki's Superbike rookie, Richie Escalante, enjoyed a hugely encouraging outing in the premier class.

Escalante more than backed up his strong sixth-placed qualifying performance aboard the squad's Suzuki GSX-R1000R. He got away from the line in fifth and promptly executed a successful overtake to move up into fourth on Lap 2. He did well to keep the podium battle in sight for several laps, pulling free of the riders behind him en route to an eventual fourth-place finish.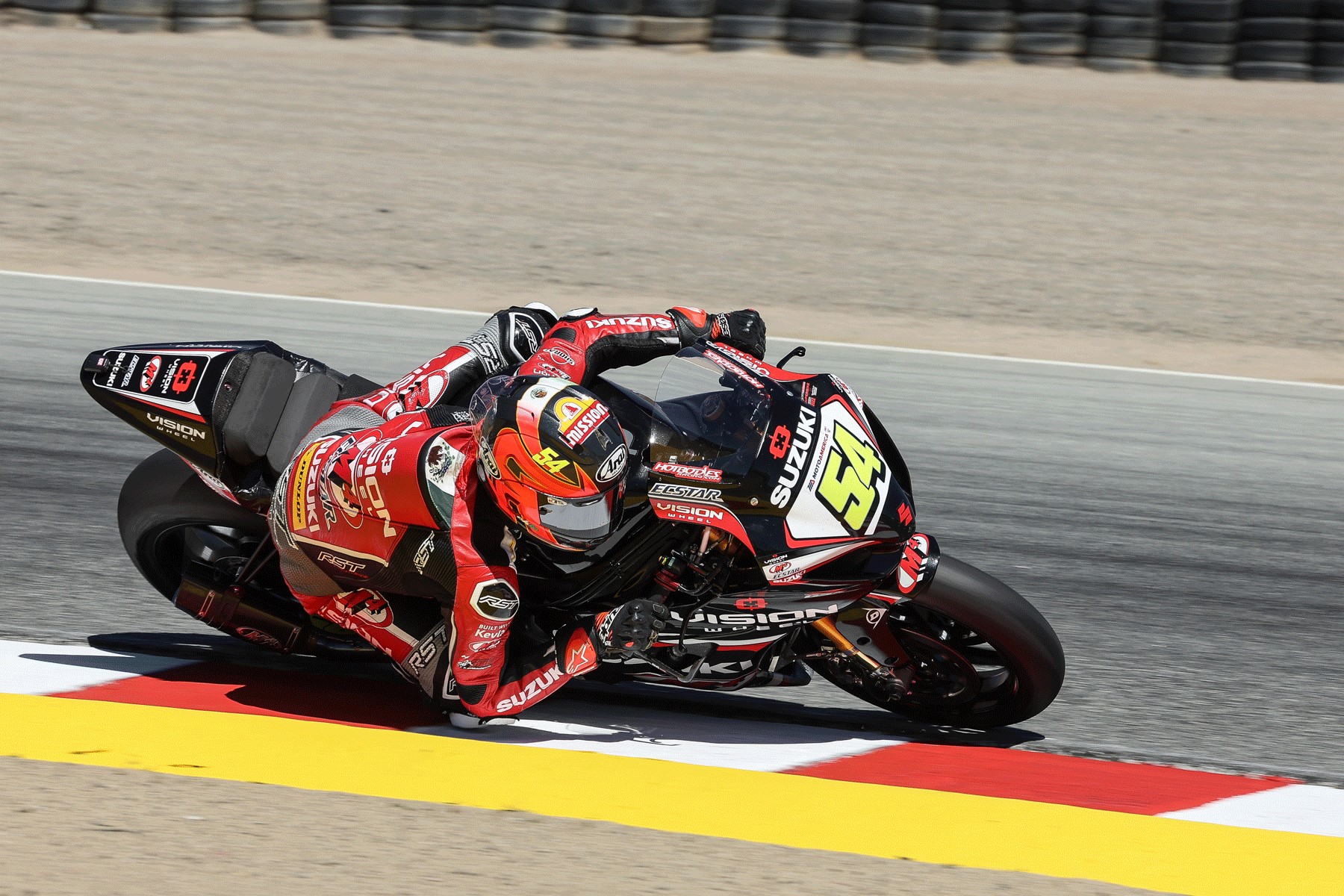 Another top ten finish for Richie Escalante (54) after big strides getting used to the new Superbike speed.

Escalante said, "So far, it has been the best weekend yet for me on the Superbike – the best qualifying and the best race. I think at the Ridge, we made many improvements, so I came into this weekend with more expectations but also, I was more confident and relaxed.

"The Vision Wheel M4 ECSTAR Suzuki team has worked great, and now we are more focused on smaller changes that keep improving the bike. After I made the pass for fourth, I was by myself so I focused on my riding, the exits, and my rhythm. We still need to improve our pace but we are still learning. This is a good result and we will keep working harder."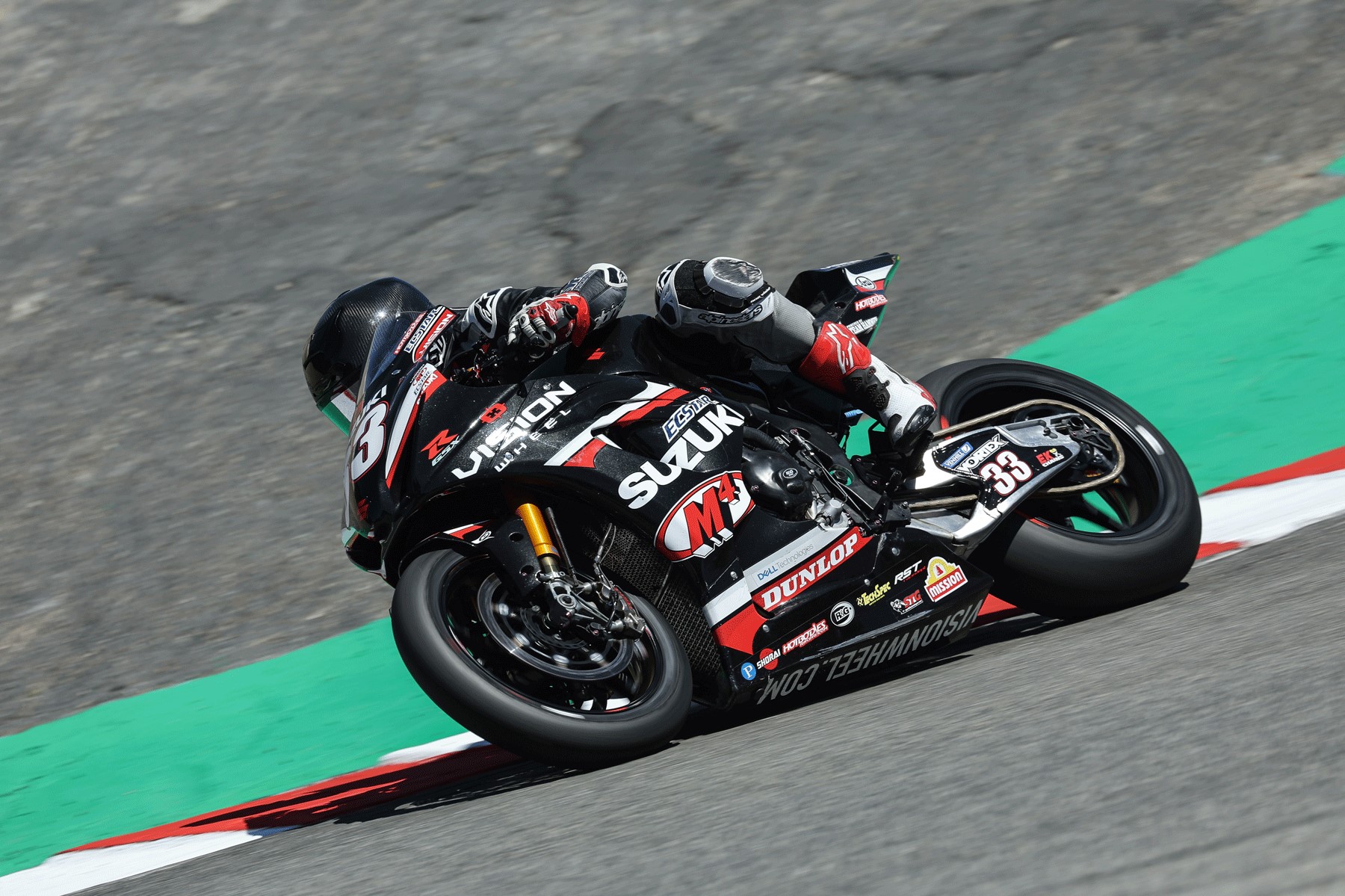 The MotoAmerica veteran, Kyle Wyman (33) cracks the top ten aboard his new GSX-R1000R in Superbike Race 1.

Multi-time Superbike podium finisher Kyle Wyman did well in substitute duty, adding yet another top ten to the team's total on the day while riding in place of the injured Jake Lewis aboard the second GSX-R1000R.

While focusing on the continued development of the machine in anticipation of Lewis' eventual return, Wyman improved his speed in every session. He continued his forward momentum in the race, transforming a 12th-place grid slot into an eighth-place finish.

Team Hammer is looking to build on its promising Saturday with an even better Sunday as the MotoAmerica round at Laguna Seca concludes.
ABOUT TEAM HAMMER
The 2022 season marks Team Hammer's 42nd consecutive year of operating as a professional road racing team. Racebikes built and fielded by Team Hammer have won 129 AMA Pro and MotoAmerica National races, have finished on AMA Pro and MotoAmerica National podiums 341 times, and have won 11 AMA Pro and MotoAmerica National Championships, as well as two FIM South American Championships (in Superbike and Supersport.) The team has also won 137 endurance races overall (including seven 24-hour races) and 13 Overall WERA National Endurance Championships with Suzuki motorcycles and holds the U.S. record for mileage covered in a 24-hour race. The team also competed in the televised 1990s Formula USA National Championship, famously running "Methanol Monster" GSX-R1100 Superbikes fueled by methanol, and won four F-USA Championships.

ABOUT VISION WHEEL
Founded in 1976, Vision Wheel is one of the nation's leading providers of custom wheels for cars and trucks, and one of the first manufacturers of custom wheels and tires for ATVs, UTVs, and golf carts. Vision Wheel looks beyond the current trends and to the future in developing, manufacturing, and distributing its wheels. Vision's lines of street, race, off-road, American Muscle, and Milanni wheels are distributed nationally and internationally through a trusted network of distributors. Vision Wheel also produces the Vision It AR app to allow users to see how their wheel of choice will look on their vehicle before purchase and installation. For more information on Vision Wheel, visit www.visionwheel.com.

ABOUT SUZUKI
Suzuki Motor USA, LLC. (SMO) distributes Motorcycles, ATVs, Scooters, Automotive Parts, Accessories, and ECSTAR Oils & Chemicals via an extensive dealer network throughout 49 states. Suzuki Motor Corporation (SMC), based in Hamamatsu, Japan, is a diversified worldwide manufacturer of Motorcycles, ATVs, Scooters, Automobiles, Outboard Motors, and related products. Founded in 1909 and incorporated in 1920, SMC has business relations with 201 countries/regions. For more information, visit www.suzuki.com.