Back to News
Vance & Hines/Mission Suzuki Storm to Pro Stock Motorcycle World Championship
Rookie Gaige Herrera Nails Record-Setting Season on Gen3 Hayabusa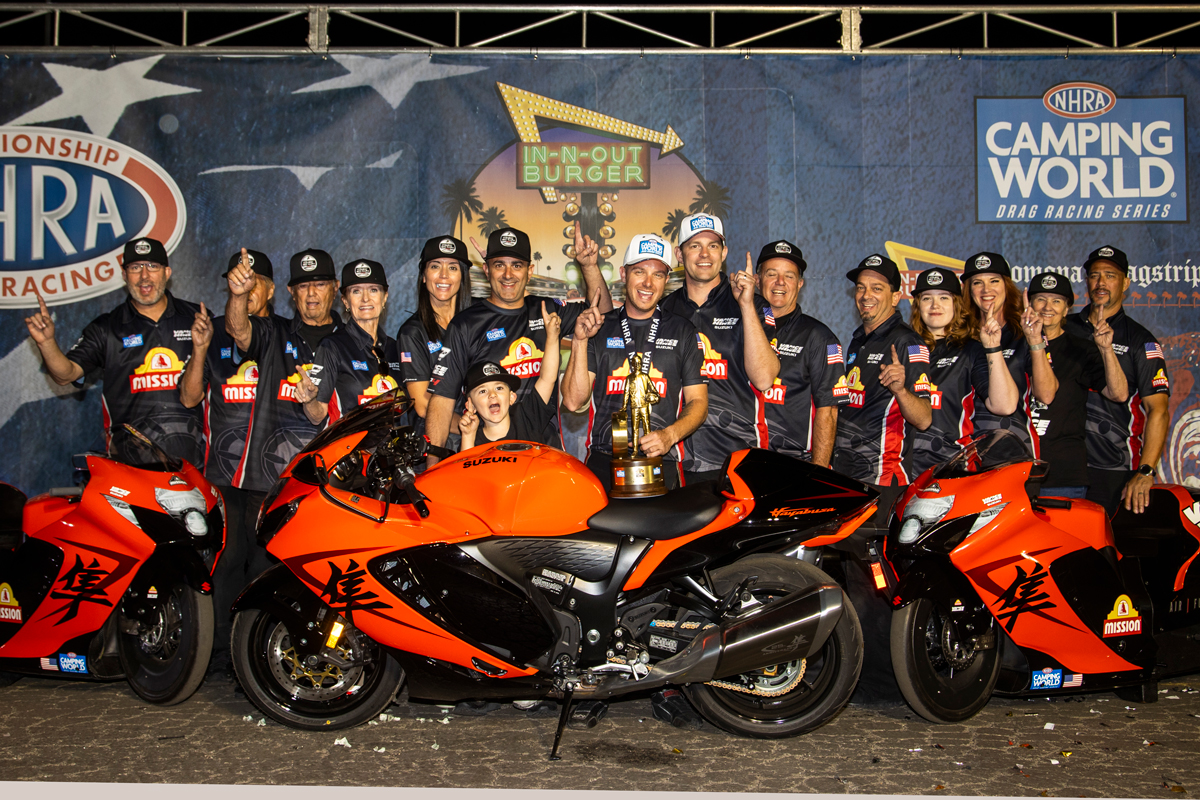 BREA, CA – November 13, 2023 – Gaige Herrera won his first NHRA Pro Stock Motorcycle World Championship and 11th race of the season as he faced off against his Vance & Hines/Mission Suzuki teammate Eddie Krawiec for a fourth-straight race at the In-N-Out Burger NHRA Finals at the In-N-Out Burger Pomona Dragstrip in Pomona, CA, on Sunday.
Race Highlights
Gaige Herrera qualified No. 1 for the 14th time and won his 11th race of the season, both class records, and clinched his first career Pro Stock Motorcycle World Championship.
Eddie Krawiec qualified third, advanced to a fourth-straight all-Vance & Hines/Mission Suzuki team final and finished second overall in the 2023 championship standings.
Riding a Gen III Suzuki Hayabusa wearing a special livery commemorating the 25th Anniversary of the legendary Suzuki Hayabusa motorcycle and racing in front of a large crowd of Suzuki fans celebrating at the Hayabusa Homecoming, Herrera qualified his Hayabusa number one for the 14th time this season with a 6.661-second/203.80 mph run that re-set the Pomona track's elapsed time record.
In round one, Herrera coasted to a win against Blaine Hale, who fouled on the starting line. In the second round, he defeated 2010 world champion LE Tonglet (6.839 seconds/195.14 mph) with a 6.744-second/201.76 mph run to advance to the semi-finals against veteran Steve Johnson, whom he defeated with a 6.713-second/202.33 mph run, his quickest of the day, outpacing Johnson's 6.850-second/197.54 mph pass.
Herrera's semi-final victory over Johnson set up an all-Vance & Hines/Mission Suzuki final-round matchup against Eddie Krawiec for the fourth race in a row. Once again, as he had done on the three prior occasions, Herrera and his Hayabusa denied his mentor a milestone 50th career win, defeating the four-time champion with a 6.721-second/201.46 mph run against Krawiec's 6.796-second/199.52 mph pass.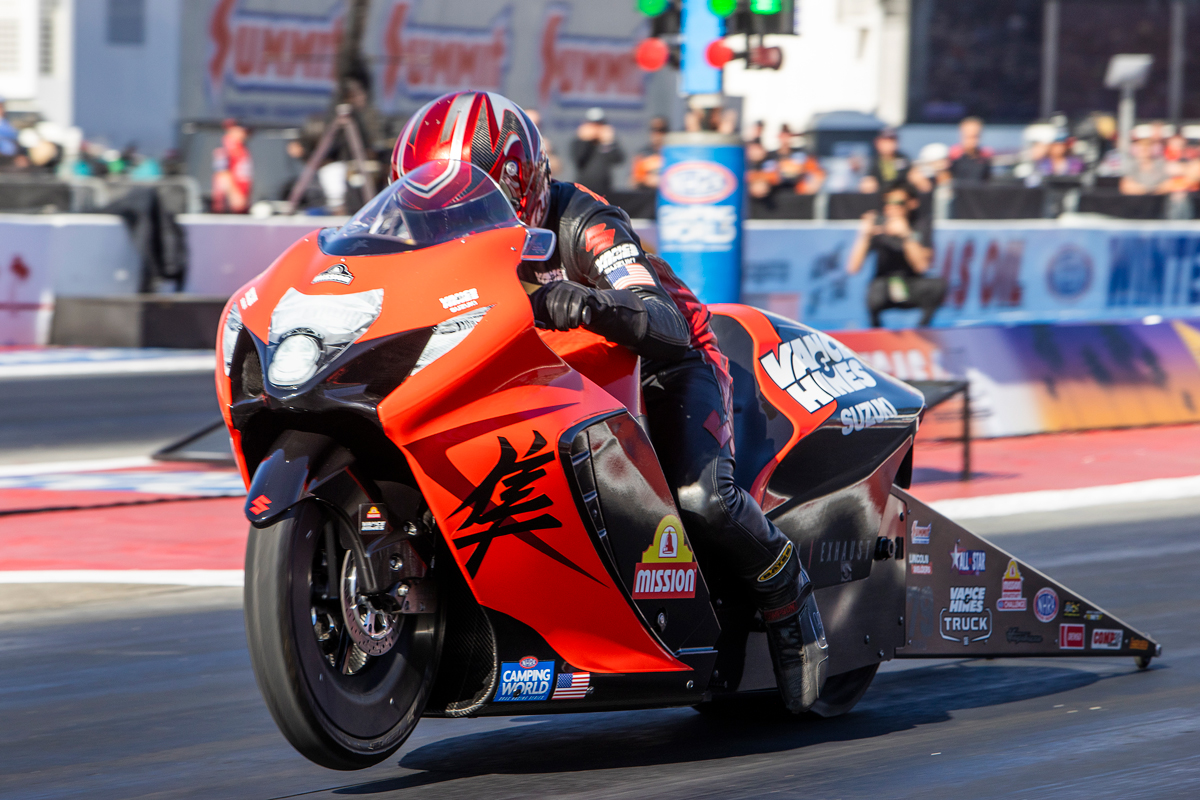 Gaige Herrera (79) caps off his record-breaking rookie season with a win in the NHRA Finals and a Pro Stock Motorcycle Championship.

In a season of superlatives and achievements as dominant as any in NHRA history, Herrera was the top qualifier in 14 of 15 races and won 11 of them, both class records. Herrera also set a new national elapsed-time record of 6.627 seconds and won the Pro Stock Motorcycle world championship in his first full season as a rider. Herrera's championship is the 14th overall for the Vance & Hines/Mission Suzuki team, which finished the season first and second in the overall class standings.

"This season has been a dream. It's surreal and almost doesn't feel real at all. I've worked very hard to get to this point in my career. It's amazing what we've accomplished as a team, all the wins and records we set. Having so much confidence in the performance and preparation of my Suzuki Hayabusa really helped me focus on riding the bike and getting the most out of this iconic motorcycle. It's not just my championship. It belongs to the whole Vance & Hines/Mission Suzuki team," Herrera said.

Looking ahead to next season, Herrera knows the rest of the class will be gunning for him. "Next year is going to be very competitive. Many teams will be stepping up their programs and coming for me. This year most people didn't expect us to have the performance we did, especially with it being my first season riding full-time. I think next season will be harder for me, but I'm excited about it. I'm looking forward to winning a lot more races."

Seeking his first win of the season and 50th of his career, Krawiec qualified third with a 6.734-second/201.94 mph pass to open the Pomona finals weekend.

In round one, Krawiec defeated Chris Bostick (7.016 seconds/179.80 mph) with a 6.757-second/201.55 mph blast, then advanced to the semi-finals with a 6.958-second/199.58 mph second-round victory over Marc Ingwersen, who fouled on the starting line. In the semi-finals, Krawiec defeated Hector Arana Jr. (6.880 seconds/196.36 mph) with a 6.819-second/200.53 mph run to set up yet another final-round matchup against Herrera, who once again denied him the career milestone victory.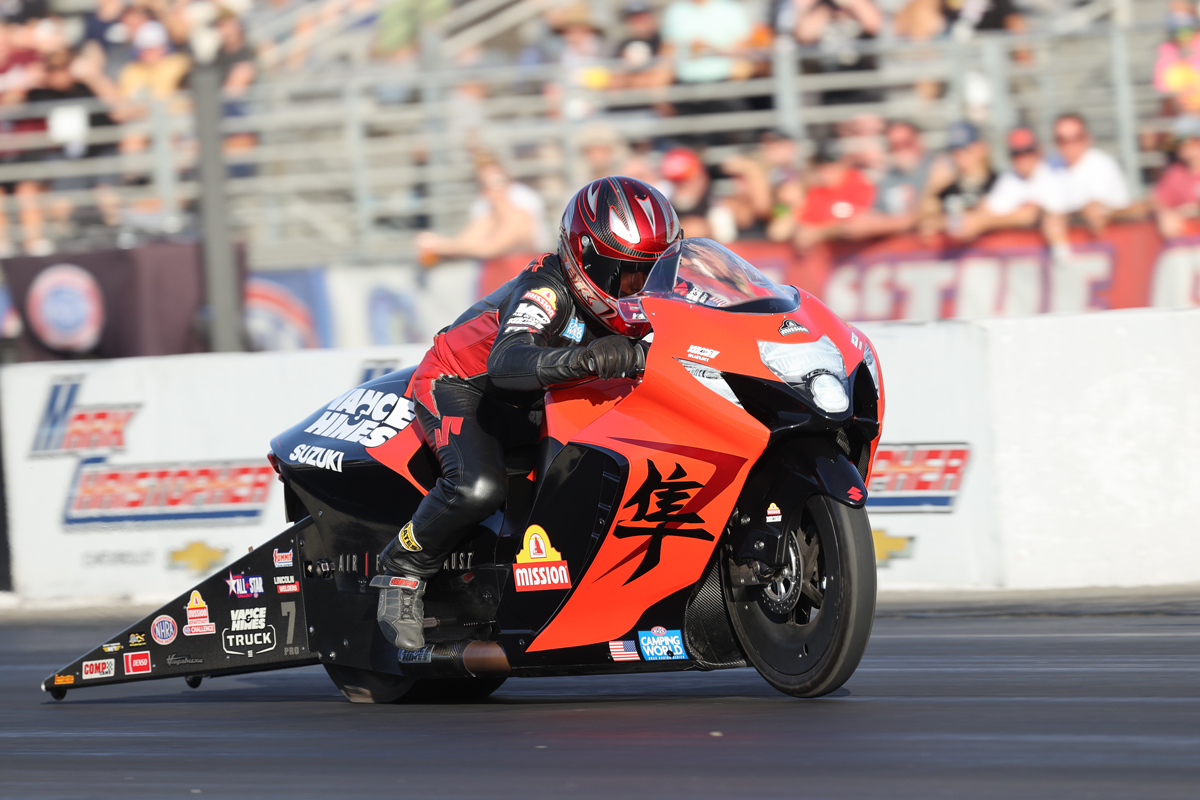 Eddie Krawiec (7) finishes his season with his head held high earning a solid second-place finish in the 2023 championship.
On the strength of his strong performance over the second half of the season, Krawiec finished second in the championship, locking out the top two spots for the Vance & Hines/Mission Suzuki team.

"To finish one and two in a class that is as competitive as ours isn't easy. We were able to get my Hayabusa into a really good position in the second half of the season. At the end of the day, I had a great race bike, but Gaige's was just a little bit better. It was a great year. I went to four finals in the last four races and without Gaige here, I would have had another championship season," Krawiec said. "What we saw this year from Gaige is something special. It doesn't just happen all the time. He was machine-like pretty much all year long, made no mistakes, and was super consistent. When someone does that, it's hard to beat."

Vance & Hines/Mission Suzuki crew chief Andrew Hines credited the championship to a complete team effort on and off the track, Herrera's talent as a rider, and the exceptional performance of the new Gen III Hayabusa that debuted this season.

"Never in our wildest dreams could we have expected this at the start of the season. Suzuki gave us a fast baseline with the new Gen III Hayabusa, which is bar-none the best motorcycle in the class. It's almost effortless for our riders to make runs close to perfection on the Hayabusa. It's a beautiful machine. Gaige was rock solid and rode like a veteran all season long. The exceptional thing is what he can do on a motorcycle in the first 10 feet of the run. As a crew chief, I can exploit that with the clutch setup and horsepower, and together it makes a potent combination. He's next level. Eddie went to four straight finals, and in any other normal year, he would have won another championship, but his challenge was that the best motorcycle in the class was parked right next to him in the pit area," Hines said. "As a team, we strive for greatness. Our status quo is to be the best. We sacrifice time with our families and work endless hours to make sure our motorcycles are immaculate, fast, and well-prepared. We come together under adversity like this weekend with Gaige's bike. This championship is a testament to the guys here at the track and the support crew back at our shop who don't get the accolades on TV. They all work so hard to make sure the motorcycles we bring to the track are the best."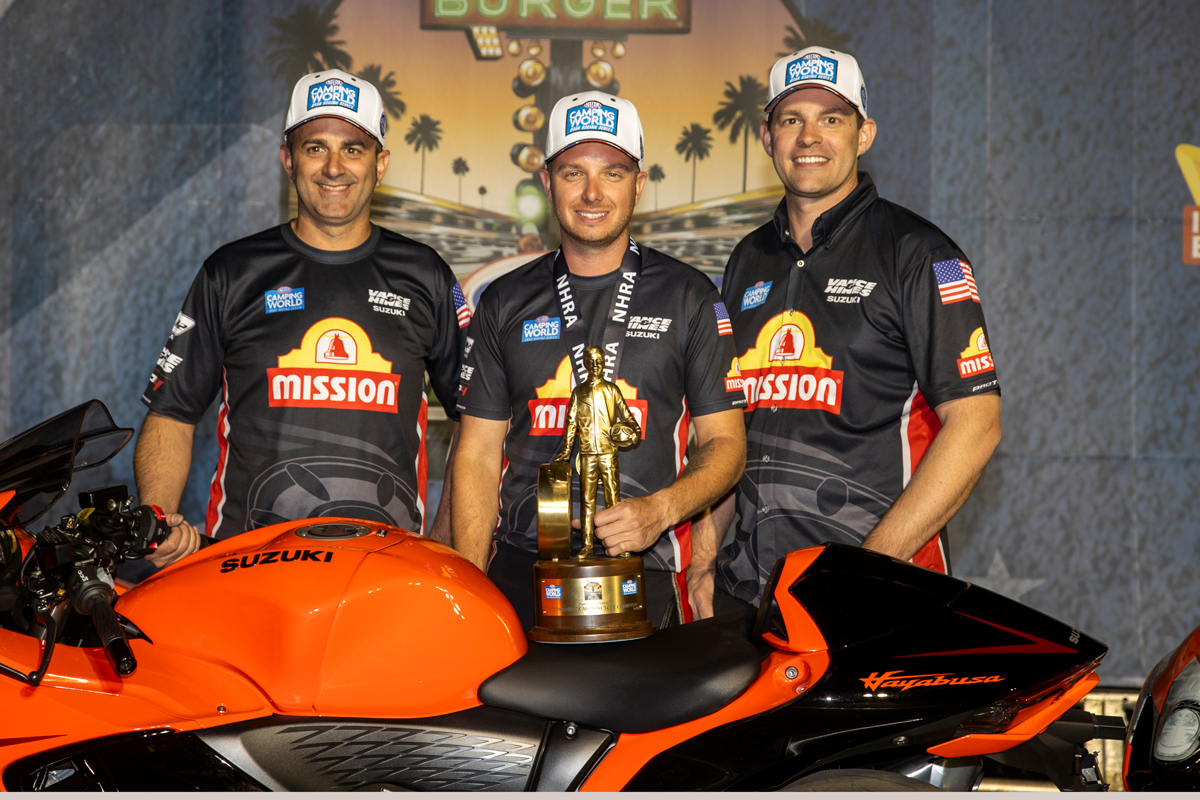 The Vance & Hines/Mission Suzuki team is looking forward to what is to come next season.

After the 2023 NHRA season, Herrera and Krawiec finished first and second in the Pro Stock Motorcycle standings with 2,877 and 2,663 points, respectively.
The Vance & Hines/Mission Suzuki team will return to action for the 15-race 2024 Pro Stock Motorcycle season on March 7-10, 2024, at the season-opening NHRA Gatornationals at Gainesville Raceway in Gainesville, FL.