Suzuki GSX-R750s Double Podium on Sunday at Circuit of the Americas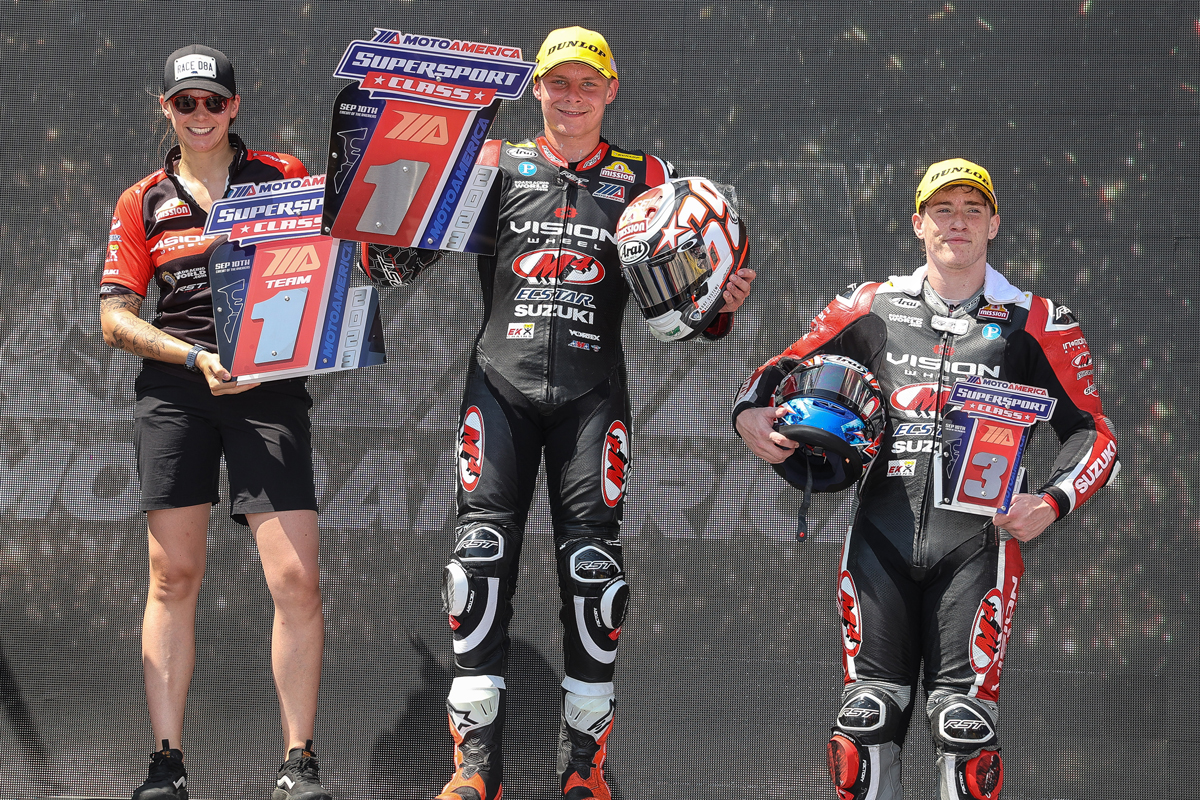 BREA, CA, September 11, 2023 — Suzuki Motor USA and Team Hammer put a bow on the penultimate round of the 2023 MotoAmerica season at the Circuit of the Americas in Austin, Texas, by claiming a victory among a pair of Sunday podiums.
Race Highlights:
Vision Wheel M4 ECSTAR Suzuki

Supersport


Tyler Scott picked up his third win of the season with an epic last lap.
Torin Collins put an exclamation point on his stunning debut with a podium in his second-ever MotoAmerica race.
Teagg Hobbs crashed trying to catch the leaders while running in third position.

Superbike

Brandon Paasch rebounded to notch up a third top-five of the season.
Richie Escalante crashed from third while engaged in a three-rider fight for the lead.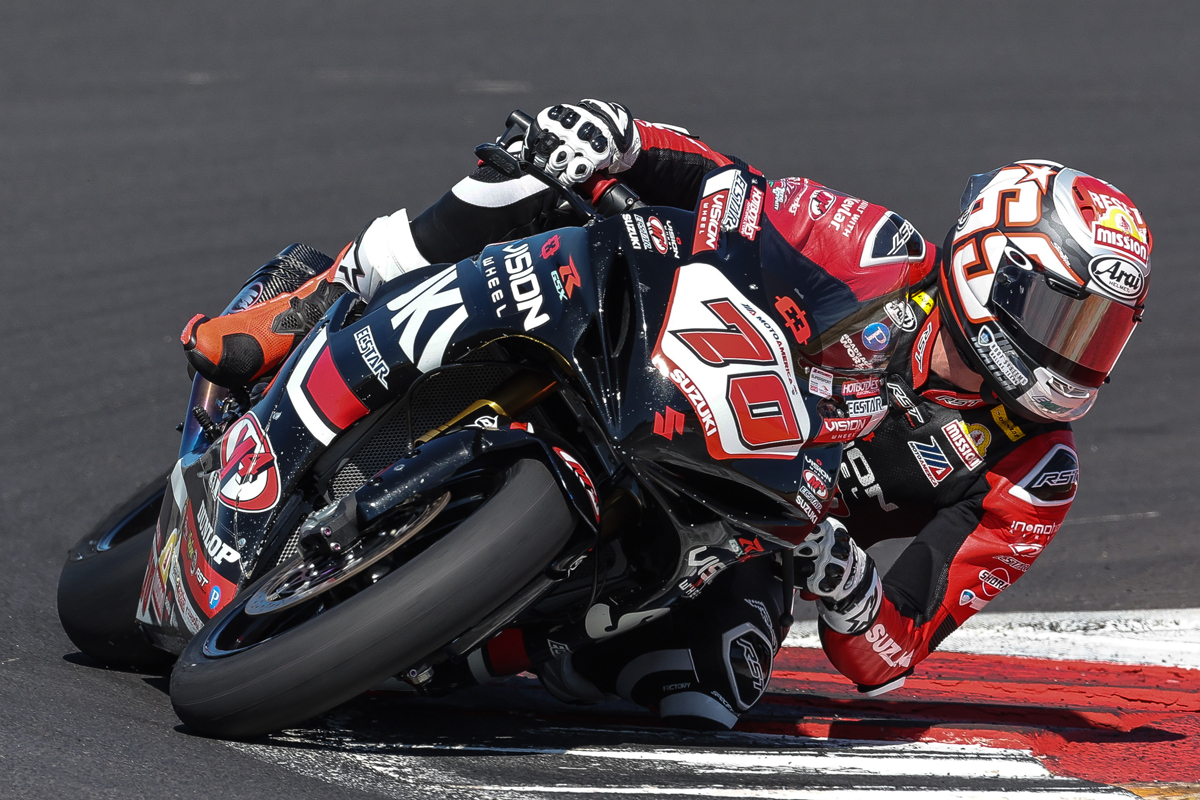 Tyler Scott (70) backs up his podium from Saturday with a Victory in Race 2.
Vision Wheel M4 ECSTAR Suzuki's Tyler Scott registered another impressive victory in his young MotoAmerica career on Sunday, following an intense final-lap showdown. After a red flag concluded Saturday's Supersport race early, Scott made the most of his white-flag lap in Sunday's rematch to earn a hard-fought win

Following an early-race stoppage that set the stage for a shortened six-lap sprint race, Scott and a rival proceeded to trade first position back and forth. That led to a spectacular last-lap shootout that saw the two engage in a series of braking duels, side-by-side cornering, and escalating tests of courage. Scott held firm with an inspired effort to snare his third win and tenth podium of his '23 campaign aboard the next-generation Suzuki GSX-R750.

"It was an amazing race," Scott said. "I can't give enough thanks to the whole Vision Wheel M4 ECSTAR Suzuki team. The bike was awesome this weekend, and the race was super exciting. That is definitely one of the most fun races I've ever had, and it's even better when you end up on top of the box."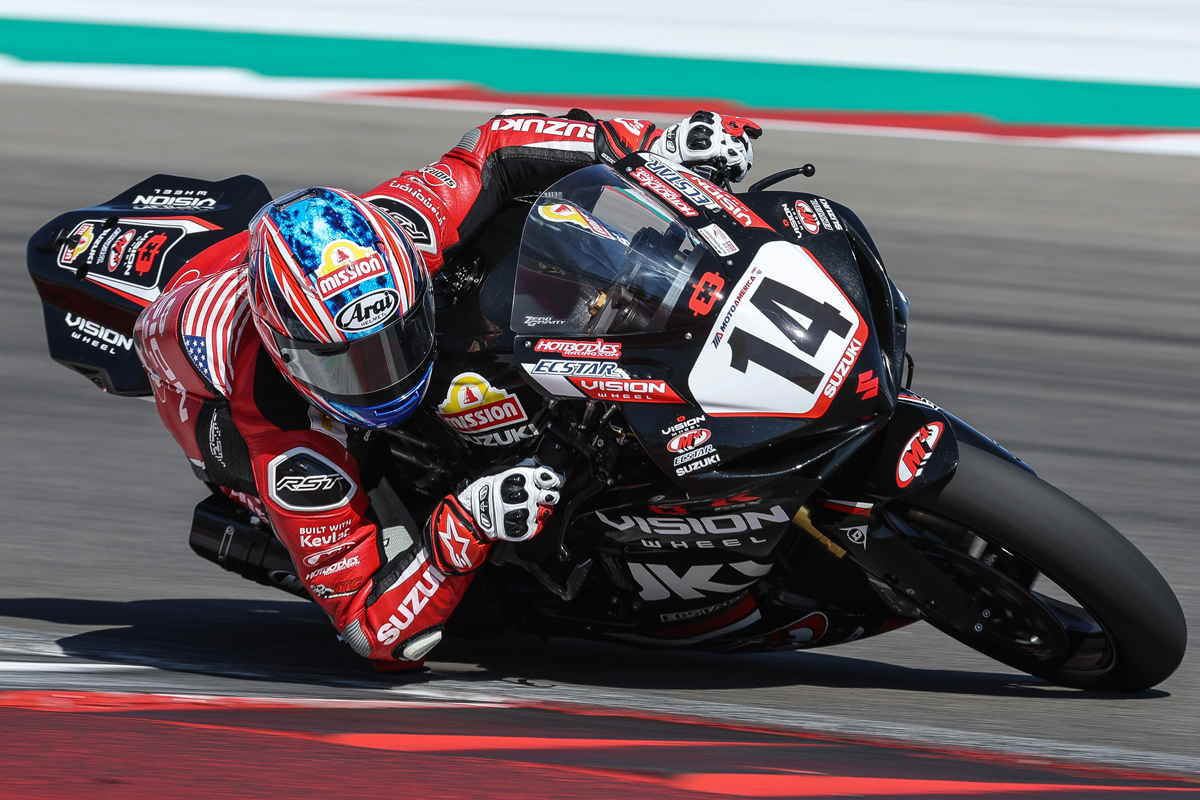 In only his second race, Torin Collins (14) charges his way onto the main stage of the Supersport class with a podium finish.
Even after stunning the paddock with a top-five MotoAmerica debut aboard the Vision Wheel M4 ECSTAR Suzuki GSX-R750 on Saturday, FIM JuniorGP regular Torin Collins found a way to top himself on Sunday. The up-and-coming Collins battled it out to the stripe with some of the most proven riders the MotoAmerica Supersport category offers and ended up on top of the three-rider fight for the final spot on the podium.

Collins said, "The Vision Wheel M4 ECSTAR Suzuki team put in so much hard work for me this weekend; I wouldn't have been able to do this without them. The race was difficult. I knew it would be hard with riders of that caliber on my tail the whole race and it was."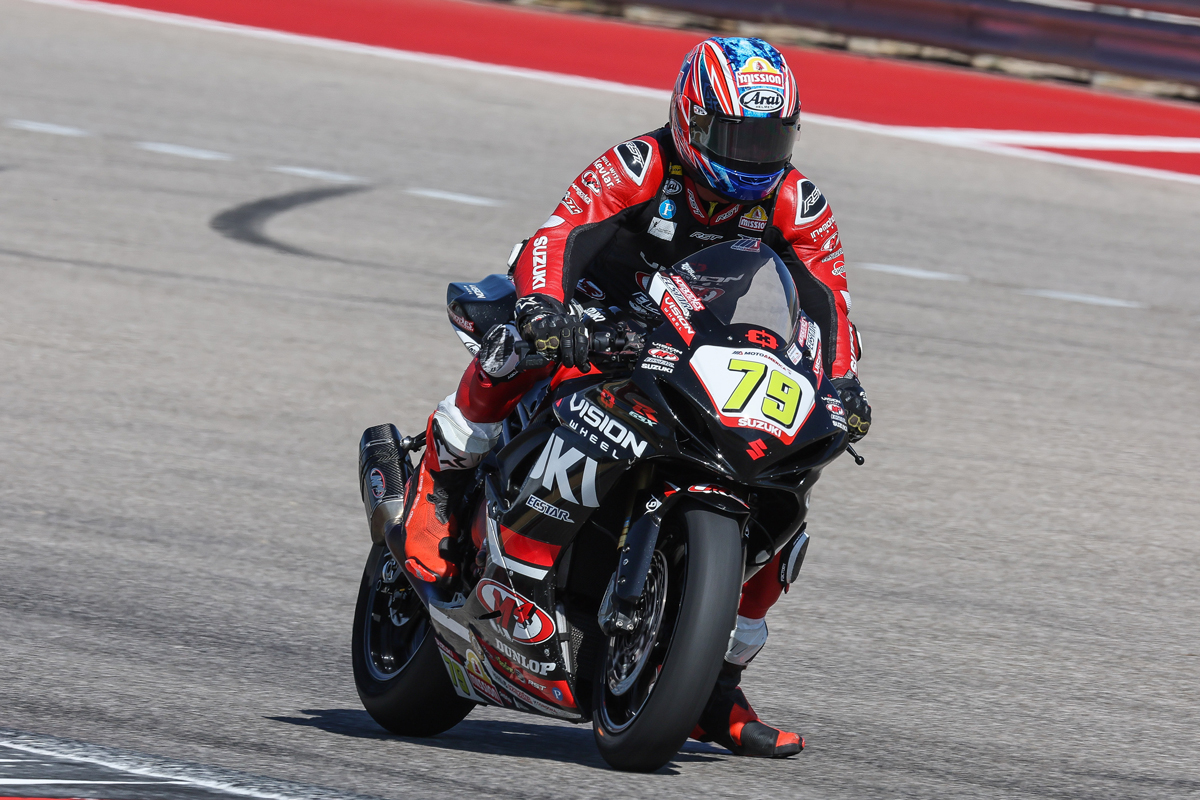 An unfortunate get-off for Teagg Hobbs (79) in Race 2 ended his race Sunday but is looking to bounce back at a familiar track in New Jersey.

Unfortunately, Teagg Hobbs' ambitions to push teammate Scott for victory ended early on Sunday. After coming home with a top-three finish the day before, Hobbs suffered a huge highside crash while running third and chasing the leaders in the opening stages of the race. Despite a red flag, Hobbs' machine was too heavily damaged to return to the fray for the restart.
"I started well and at the beginning of Lap 2, I was making a push to get back up to the two guys in front of me," Hobbs said. "I felt like I gained a couple of tenths, then got thrown off in the righthander. It's disappointing, and I'm a little sore but also a little lucky. I'm really looking forward to getting another shot in New Jersey at a track I know well." Despite Hobbs' setback, the Suzuki GSX-Rs continued to be the bike of choice for most of the top ten finishers in Supersport in Texas.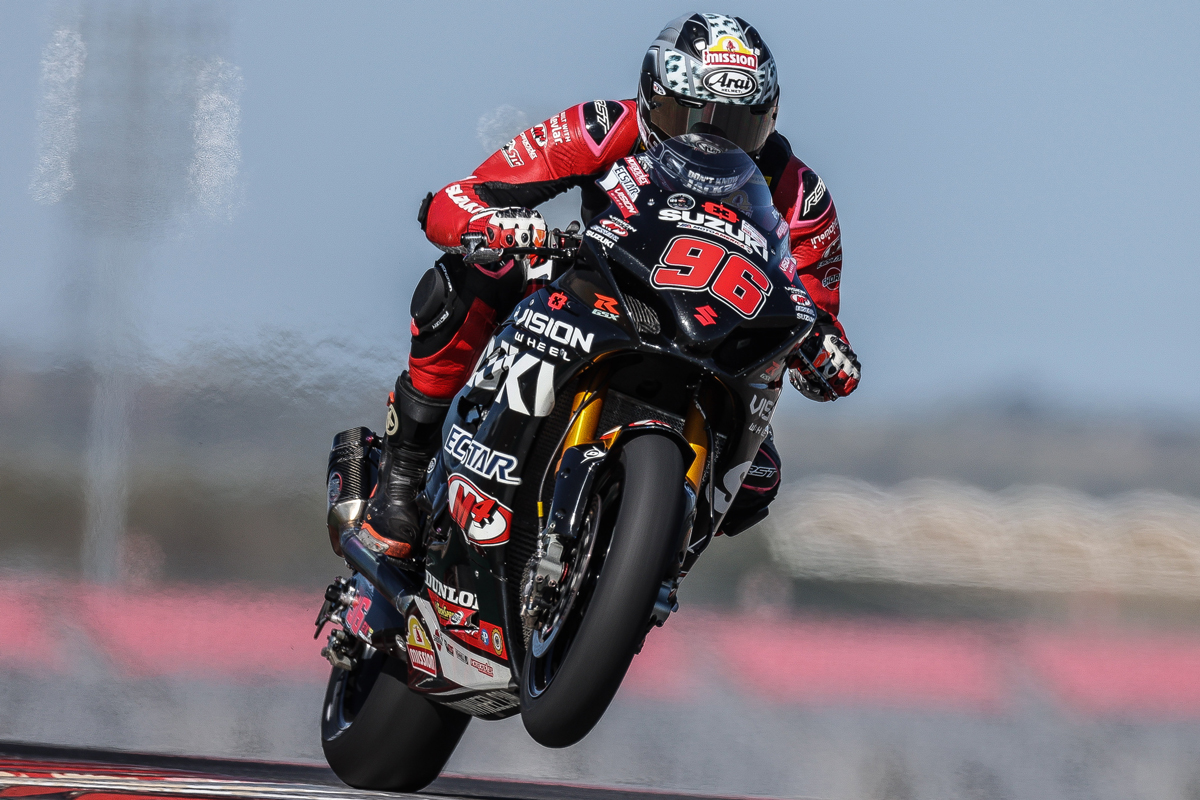 A top-five finish for Brandon Paasch (96) ends his weekend on a high note.
Vision Wheel M4 ECSTAR Suzuki Superbike pilot Brandon Paasch strongly rebounded from his Saturday DNF. Paasch put in a consistent and measured ride aboard his GSX-R1000R Superbike to secure his third top-five of the year, despite running just a partial season with the team. Paasch's fifth place also marked his eighth top ten in ten attempts with the team.

Paasch said, "It went much better for us today. I think we turned it around and got back up in the top five where we need to be. The bike setup felt better, and I was more comfortable. This was going to be a tough track for me because I don't have many laps here, but now we go to New Jersey, which is pretty much my home track. I feel we are making good progress and strong improvements."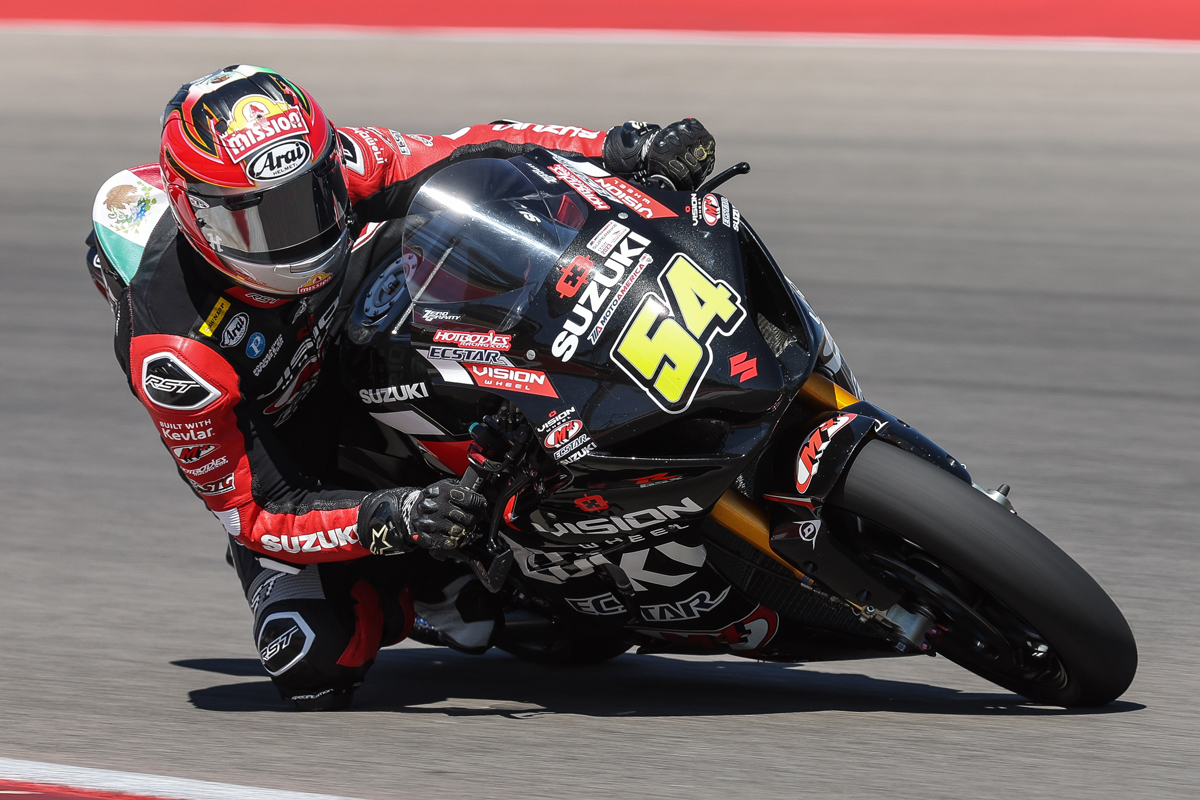 Richie Escalante (54) looks to continue the podium momentum from the past weekend going into New Jersey.

After scoring his first Superbike podium on Saturday, Richie Escalante set his sights on a career-first premier-class victory on Sunday. Escalante was very much in contention to attain the lofty goal too, piloting his Vision Wheel M4 ECSTAR Suzuki GSX-R1000R in a close third before suffering a lowside crash at full lean on lap 4. Escalante picked his bike back up and soldiered forward to the checkered flag, ultimately coming home in 16th position.
"It was a great weekend for us," Escalante said. "I came in with big expectations because the team had done a great job in giving me a new swingarm and more power. The feeling from the bike was really great. I had more grip, and the bike seemed even calmer when pushing hard. I was trying to be fast and consistent and we finally got on the podium on Saturday. On Sunday, we improved the bike even more in the warm-up. I was in the top three during the race and felt I had the speed to win, but I made a mistake and lost the front. That is part of racing. We are closer to the front than ever and I thank the team, our sponsors, and my family for helping me get there."
The 2023 MotoAmerica AMA/FIM North American Road Racing Championship season will conclude on September 22-24 at New Jersey Motorsports Park, in Millville, New Jersey.
Photos by Brian J. Nelson Photography