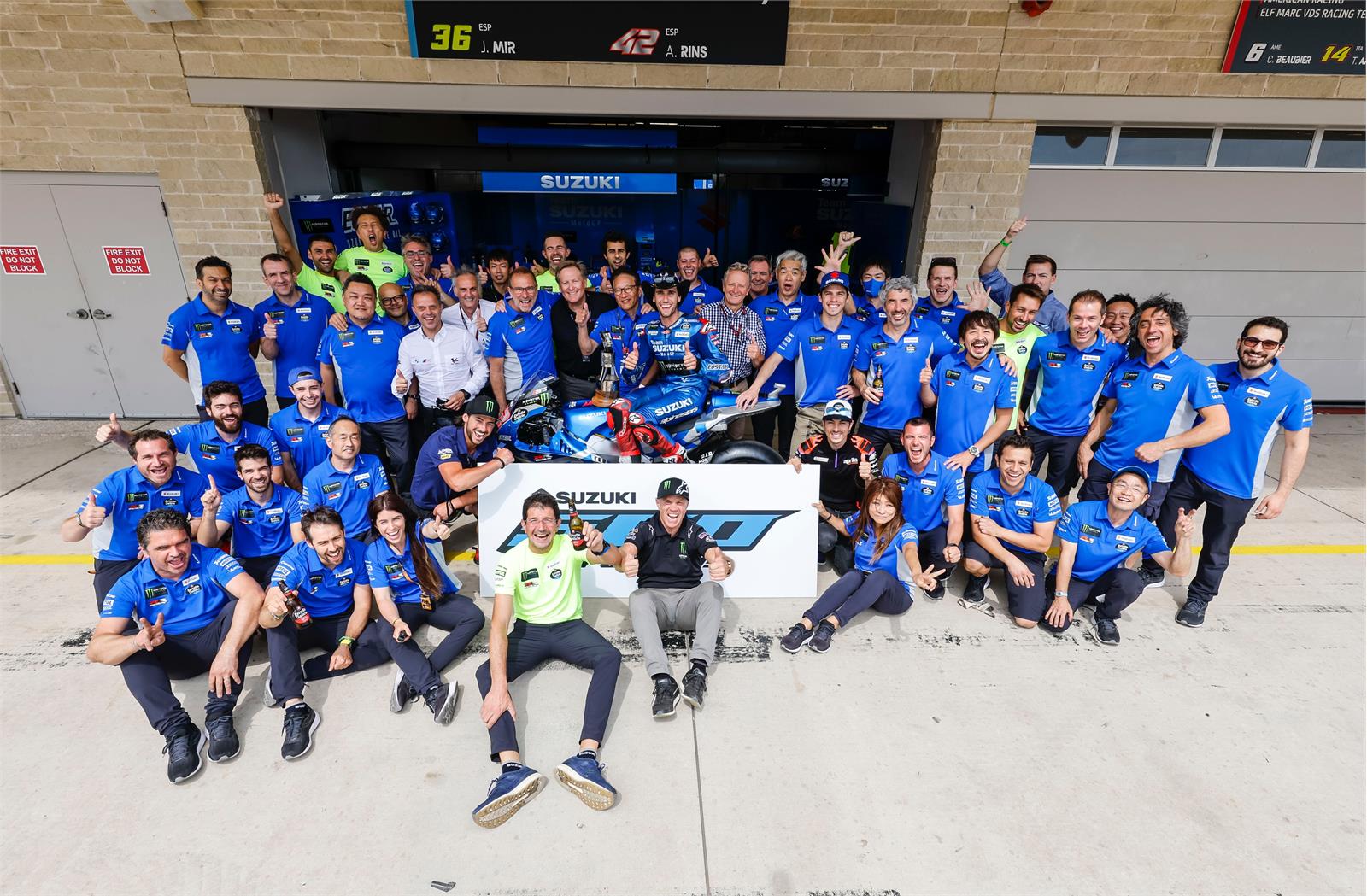 Team Suzuki Press Office – April 10.

Alex Rins: 2nd (+ 2.058)
Joan Mir: 4th (+ 3.975)

Team Suzuki Ecstar and Suzuki Motor Corporation are celebrating in style today after Alex Rins clinched the factory's 500th podium across classes with his second place at the Circuit of the Americas. This impressive milestone comes on the same day that the MotoGP™ series celebrates its 500th Grand Prix in the 'Racing Together' era (the partnership between the FIM, Dorna, the MSMA, and IRTA). Joan Mir put in another solid race; riding his way from eighth on the grid to fourth at the chequered flag.

After a clean start, at the end of the first lap, Mir and Rins were on the back of the leading riders, in seventh and eighth. The pair proceeded to set their sights high while keeping their cool as the race shook out. By Lap 6 Rins had made his way into the Top 5, simultaneously setting the fastest lap of the race.

With five laps left in the 20 lap race, Rins was in a comfortable third position with air either side of him. Meanwhile, Mir, who had impressively pushed through to fourth, was easing away from those behind and setting himself up for another respectable and consistent finish just off the podium - the same position he now holds in the Riders' World Championship.

On the penultimate lap at the Circuit of the Americas, Rins had gained considerably on Jack Miller and a great battle between the pair ensued. Rins made the pass at Turn 11 but lost the position, and in one final determined and brave move at Turn 19 he snatched an excellent second place, which also gives him second place in the World Standings.

Rins and Mir will now head to Portugal in two weeks' time holding second and fourth in the Riders' Championship, first in the Teams' Championship, and third in the Constructors' Championship.

Click here for the full release.